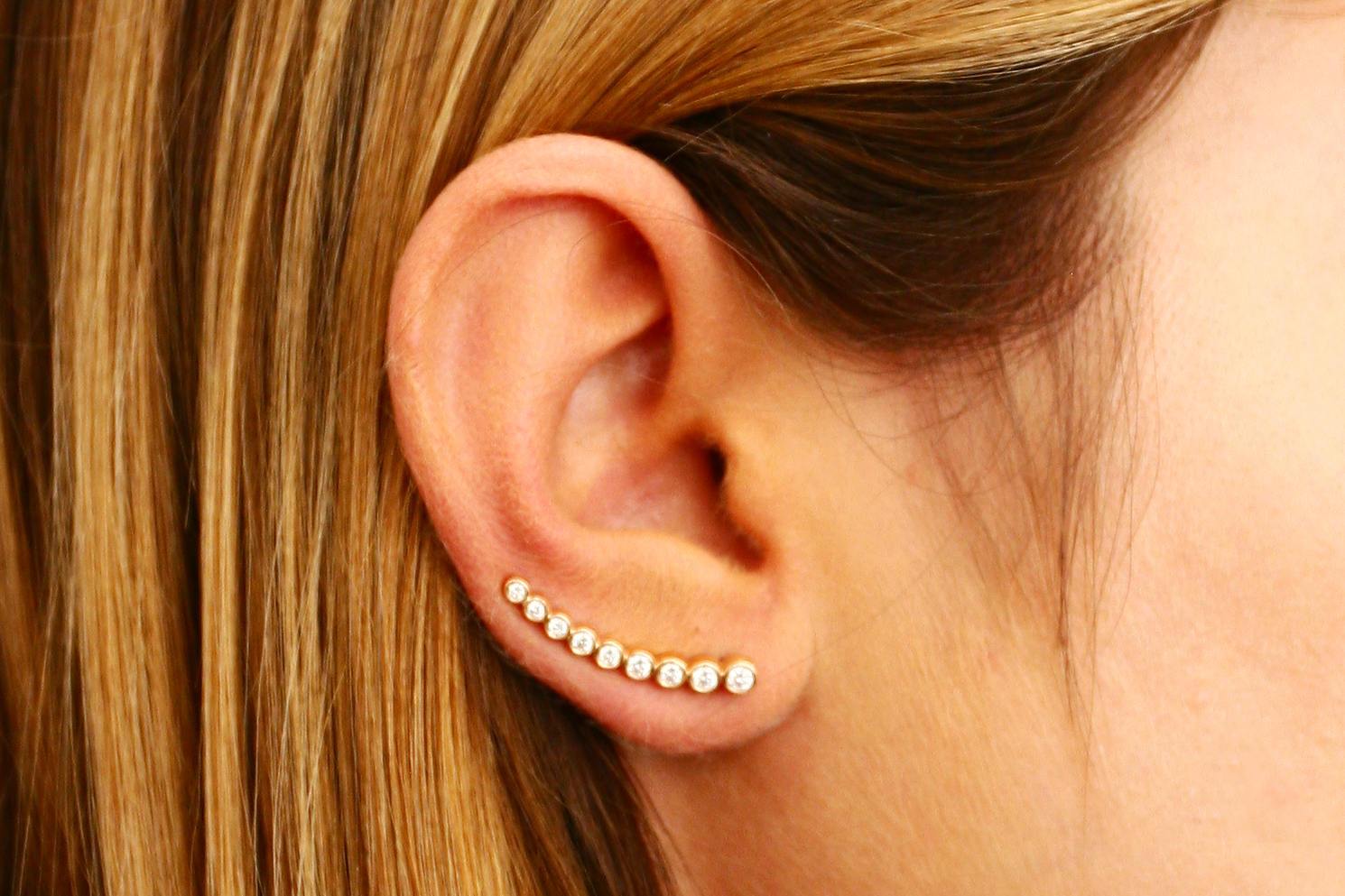 The climber earring or ear climber is one type of fashion thing and that is mostly like females. As the name says it is an oriental thing for the ear and it gives an elegant look that makes most females love to buy it, without wasting time let's jump into the topic.
What are Ear Climbers
New and unconventional earring styles, such as ear climbers, create a distinctive appearance without requiring several piercings. Wearing these earrings causes them to 'creep' up the earlobe, so imagine them as lengthy, extended studs.
How to put Ear Climbers
As they're turned into place, climber earrings only require one ear piercing to move up to the earlobe. As with hook-through drop earrings, Ear Climbers include a long, s-shaped hook on the back. Insert the hook into the piercing like an earring drop. Rotate the ear climber up so that the earring design travels up the earlobe. The hook at the back of the ear and the prongs on the front of the ear climber should be carefully squeezed together to secure the earlobe.
Choosing an Ear Climber
Make a fashion statement with a single, eye-catching climber: Set the situation such that only one ear climber grabs attention. To prevent looking overly accessorized, wear only a few pieces of jewelry. Consider wearing a striking ear climber with a simple ring, for instance.
Try an ear climber in a unique shape: Want to spice up their outfit, choose an ear climber with an interesting shape. Consider an ear climber designed like a constellation or a serpent.
A climber that creates the appearance of several piercings is a wise option: An ear climber can give the appearance of having two, three, or even more piercings. These ear climbers can help in creating a layered, yet refined, style.
How to do Styling Ear Climbers 
Use an upper cartilage stud to hold a basic climber in place: Consider putting on a single gold or silver ear climber on one lobe only. After that, use a corresponding stud in one's upper cartilage to balance the climber.
Wear an ear climber in one ear and a plain stud in the other: Wear a single ear climber in one ear and a corresponding stud in the other ear if anyone wants to create an asymmetrical design. For example, Try wearing a rhinestone ear climber and a rhinestone stud.
Make plenty of breathing room while wearing a lot of jewelry at once: Want to wear extra earrings with ear climber, take care not to place them too close together. Overcrowding the look will be the result of doing so. To get the most out of an ear climber, place one or two extra pieces in the area above the outer ear.
Wear an ear climber over a turtleneck or high neck to make a fashion statement: An ear climber will be more prominent by wearing a turtleneck or high-neck shirt. Wear a simple gold or silver ear climber with a black or navy blue turtleneck sweater.
Conclusion
It has a lot of variety and a lot of material to choose from, and the good thing is that these earrings won't damage anyone's ear by piercing. It is a simple method to put on and gives attractive looks so forget to buy these earrings.