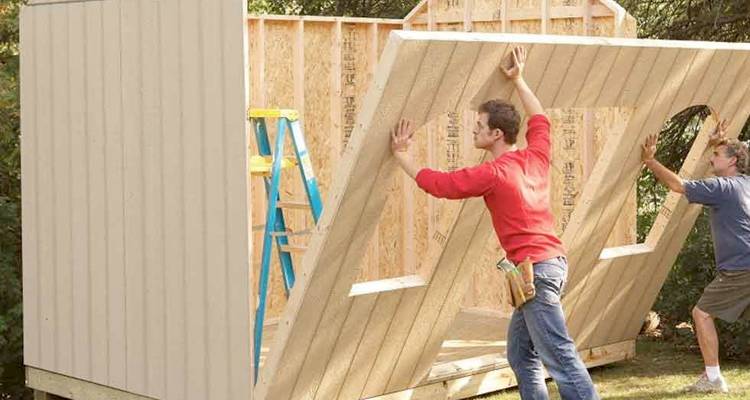 A backyard or garden shed serves as a great addition to your outdoor space. Apart from storing your lawnmowers, tools, and other gardening equipment, you can use the space for outdoor work or gym too! Now, you would stumble upon plenty of options when it comes to the style and design of your shed. Considering the roofing material, foundation, size, style, and security, you can get your garden shed customized. With a professional installer collaborating with you, choosing the best design becomes easy. Of course, you cannot possibly ignore aesthetics, which happen to be yet another determinant of the shed design.
Different styles of sheds to pick from
Explore the most popular styles of garden sheds and choose the one that fulfills your criteria.
Gambrel sheds
If you are looking for a garden shed that offers additional headspace, go for these gambrel sheds. The roofs are steep in this style, which makes room to build an attic or loft inside the shed. In the process, you can obtain an extra space for storage. People willing to make a workshop in the sheds should go for gambrel sheds. With this kind of shed, you can store lots of garden accessories without getting cramped for space.
Gable sheds
Gable sheds have gained immense popularity due to their roof-structure, which gently sloped down. The top of the shed looks attractive with a ridge, with a peak in the middle. Moreover, you can utilize the extra space in the attic. However, this is smaller than the gambrel style. Nevertheless, you can store your garden tools and accessories, besides securing your cycles or motorcycles in this kind of sheds.
Diamant sheds
Well, you may get an impression about the shape of this shed from its nomenclature itself. This kind of shed comes with a Cathedral ceiling. With a diamant shed, you would enjoy a lot of storage space. These are meant for corner installation in your garden. Besides, they look visually appealing from the outside.
4 Versants sheds
One of the most popular shed models to be incorporated in gardens and backyards, this variant comes with four sides. 4 Versants sheds are mostly rectangular or squarish in shape. They have a roof, along with four sides, that may be equal in size, or the opposite sides may be equal. However, if you want to install a garden shed with a peaked roof, you should opt for the mirage or preference styles. The reputed installers provide all these models at an affordable cost.
 Best material for your garden shed
Wooden sheds are popular for several reasons. Although you have numerous other options like plastic, vinyl, and metal, none of these offer the organic essence available in wood. In terms of looks, wood would be the ideal material for your garden shed, particularly if you want to use it for other outdoor activities. Wooden sheds come with an inherent visual appeal, besides blending seamlessly with the rest of your yard. Other materials may look too prominent and stick out from the rest.
It is also easy to upgrade these sheds later in case you look for additional space as per your needs. The installers would guide you on how you should take care of wooden sheds. They call for proper maintenance, the lack of which might make them termite-infested and moldy. These sheds also need to be painted regularly, as they might develop a stain.
Now, you are familiar with most of the shed designs and materials. In case you are planning to install a garden shed, have a consultation with one of the reputed commercial installers.